Securing Sustainable Business Success Through Digital Transformation
CASE STUDY
Digital transformation
Securing Sustainable Business Success Through Digital Transformation
CASE STUDY
Digital transformation
Digital transformation plays a crucial role, as it leads to the change of the whole group strategy and is based on the customer-centric approach that results in a platform which will offer a high level of service to every individual client. Do you see any risk for of one of the biggest companies in CEE's sustainable business? Do you believe that the business model in the O&G / Energy industry can be disrupted?
Why Digital in a leading Energy & OilGas company?
Firstly, there was an awareness that the traditional way of selling oil (which represents approx. 60% of EBITDA) will decrease in the long term and that the customer needs to find another business model to replace that part of income. Secondly, the good locations asset of points of sales that can be used for other business models was given - not only to sell energy but also merchandise - and that part already represents 20% of our EBITDA. In addition, there was a big client base and many loyalty card users, which were seen as a huge potential to add value through digital.
How to approach the digital journey?
They realized the need for digital transformation but didn't have enough knowledge on how to start this important project. Consequently, at the beginning of 2016, customers decided to work on the definition of the digital strategy with a consultant specialized in this area, but when they developed the digital strategy, they realized that having separate business and digital strategies in place will not work. So, they started the process of aligning both strategies into one long-term group strategy, by taking into account the full allocation of resources: Capital Expenditure (CAPEX), KPIs, etc. If you take new drivers like Digital into account, the strategies of business and digital need to be aligned in order to realize their full potential for the company. It is about processes and company culture, which are heavily influenced by the digital transformation. So, for our customer it was clear that they needed to incorporate and update digital initiatives in their existing business strategy to guarantee successful execution.
The Digital Transformation Program of NFG: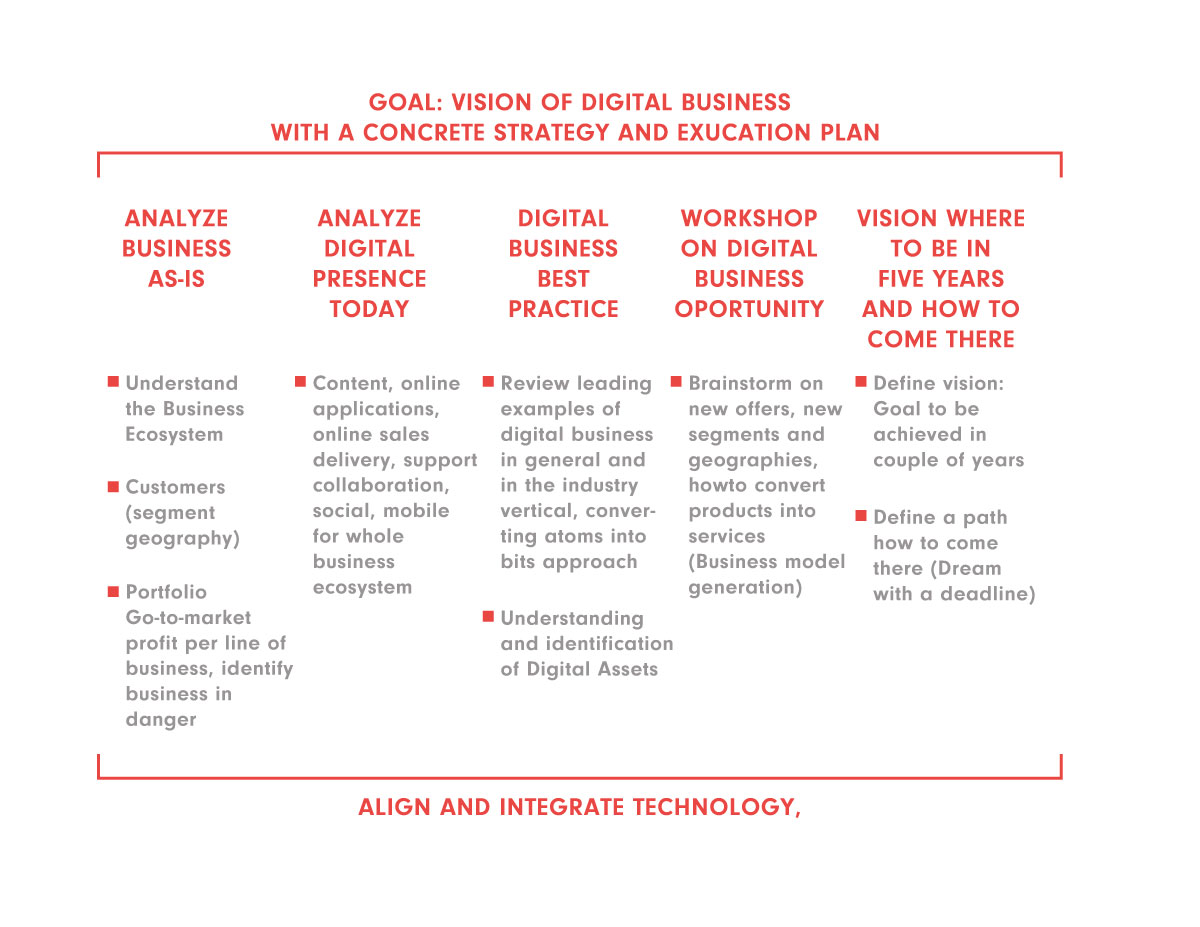 VISION WHERE TO BE IN FIVE YEARS AND HOW TO GET THERE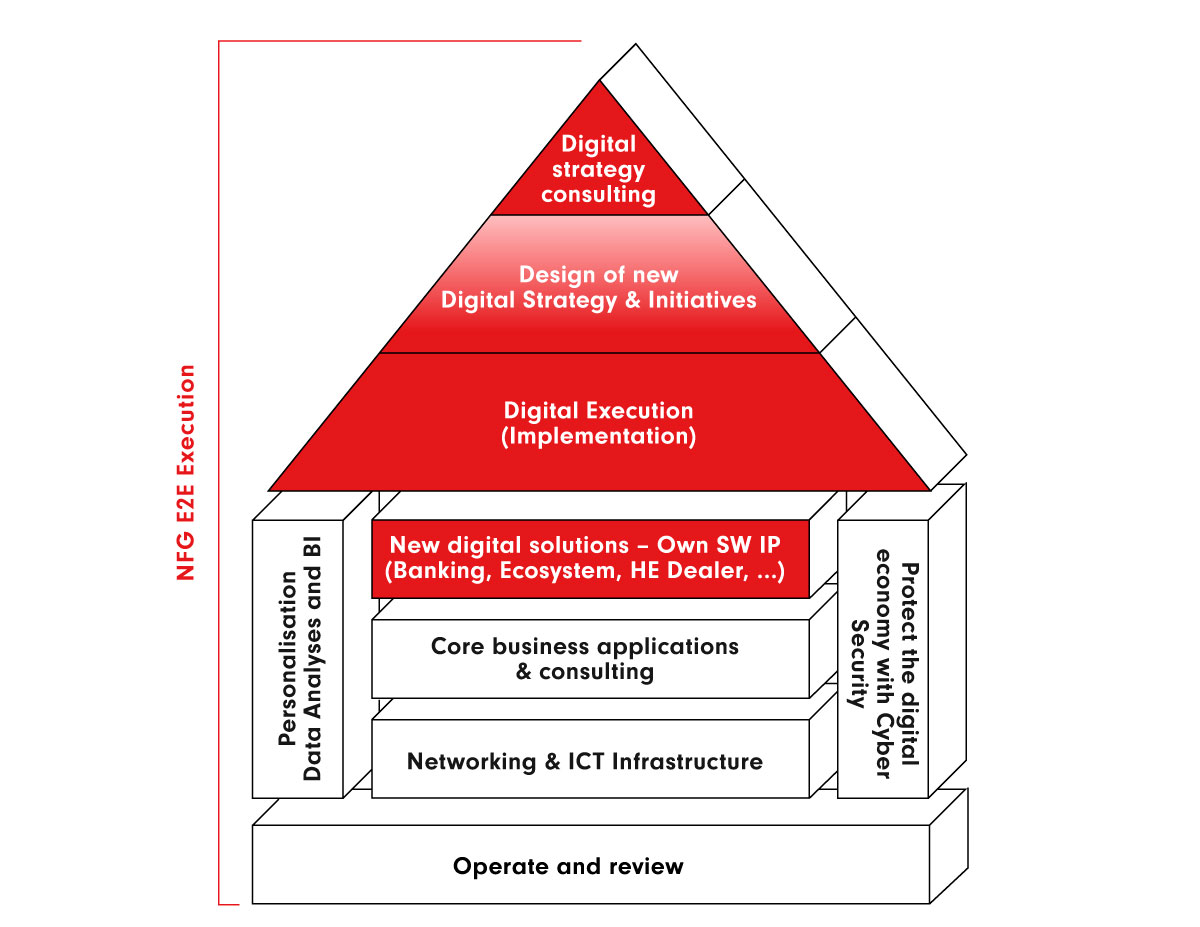 What is the value of Digital?
Digital is enabling End-Customers to be in the center, and to consume energy and non-energy areas with the major goal to increase customer service and value for them. For example, in addition to selling individual solar panels, Petrol offers the full service of installation, insurance package and long-term maintenance as well as efficiency tracking of the solar panels. In addition, Petrol offers financing for clients' projects, after-sales support and maintenance – a full-service offering. Based on this, Petrol is building a platform that will be able to offer a high level of integrated digital services individually to every single one of our clients. This is driving customer engagement, additional sales and loyalty along the customer lifetime value.
Is Digital a pure IT project?
No, since most of digital initiatives are business related and just need IT for execution. Depending on the digital readiness of an organization, Digital needs a very solid IT foundation. In case that is not available, core applications or enterprise architecture need to be evaluated and modified. Therefore, these digital projects are going to run as a priority and at high speed, as much as it is possible. Digital projects are involving several units of an organization, it is a cross-department approach with a unique goal of growing company success and value for customers.
The Digital transformation Program in a nutshell:
Starting from a digital readiness assessment, NFG worked with Petrol on the establishment of a Digital Strategy (Business & Strategy) for 2022 and how to get there. Detailed in digital initiatives and single projects - from core IT, to out-of-the-box Business initiatives were formed, detailed, scoped and executed during the detailing (Digital Initiative and Prototyping phase) resulting in Quick-Wins and Strategic Priority projects. NFG offered besides benchmarking, industry best practices and digital programming the End2End capabilities of executing ideas into actions and finally results (from idea to product).
Outcome of the Petrol Digital Program:
In the future, we will not just sell everything connected with cars and energy, but also all the goods and services that are convenient for the customer. We will properly ride the digital wave, play on our logistic and network advantage and become a leading partner for our customers' needs.
Petrol Vision 2020:
»...we are a leading regional player in energy and energy related services in terms of revenue. We are recognized as a major provider of smart solutions for homes, mobility and business. We use our innovativeness and digital solutions to develop successful new business models and partnerships. We provide an excellent user experience and increase the number of items sold per customer. «